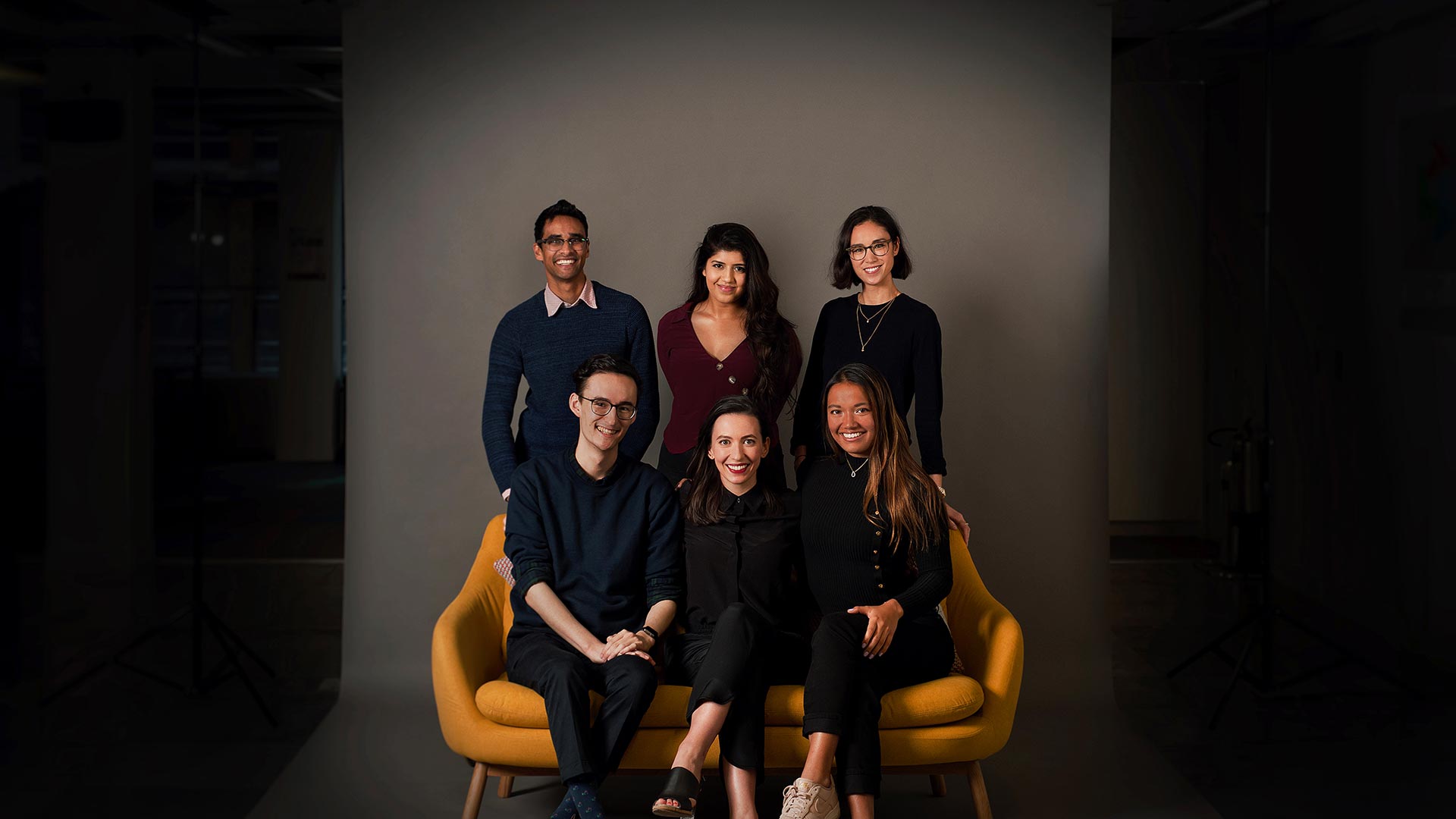 Building a bold and beloved brand
Written by Kelli Hogan, Head of Marketing
Cybersecurity has an image problem. To many, it simultaneously conjures up feelings of stale corporate software and cliched messaging rife with anonymous hacker and military-grade defense references. It's also an incredibly crowded space with over 2,500 brands and platforms competing for every business's budget. Most of these solutions are invisible to end users and have zero margin for error.
Let that sink in for a minute.
With that said, cybersecurity, specifically information security, is now seen as essential to an enterprise's overall operations and bottom line; today CISOs report into Boards of Directors. The increasing responsibility (due in part to stringent data protection policies like GDPR), heightened risks of processing and storing sensitive data and the fact that no organization appears to be safe from a data breach has given information security a new purpose and place within the structure of a business.
So is cybersecurity the place to begin or evolve your career in marketing or design?
Compared to consumer tech, it doesn't ostensibly offer the same opportunities to flex creative muscles or deviate from rigid B2B tactics. But because of the inherent challenges and the growing need for every business to adopt a comprehensive cybersecurity strategy, this is the space for creative disruption and fresh perspectives.
At Tessian, we're building a world-class Marcomms team with the ambition of bucking convention and reimagining B2B, SaaS and cybersecurity marketing. We're proving it can be creative and calculated, inspiring and effective. Tessian's mission is to keep the world's most sensitive data and technology systems secure. Our job is to build a brand that embodies this mission, and more importantly, that captures the market's attention and turns users into satisfied customers.
Marcomms at Tessian is a multidisciplinary function comprised of wildly talented communications generalists, specialists and designers. Nearly everything we do is cross-functional, which means we collaborate with every internal team—with Engineering and Data Science to ensure we authentically communicate our technology and product offering; with Client Development to capture customer success stories; with Business Development to create compelling content and execute exclusive events that help nurture leads and gain new customers.
Our core objective is filling the top of the funnel and delivering pipeline to the sales team. Our targets are big. We deliver them through a variety of strategic channel activities including events, digital marketing, content creation and PR. We have the freedom and drive to constantly experiment, measure and refine our efforts in order to optimize performance. We move fast, and our work satisfies the analytical and big picture thinker in each of us.
I left Google a year ago to take some time off and carefully consider my next career move. I had a decade of experience in consumer brand and product marketing, working with incredible creative talent on exciting technology. I loved it and learned a lot. But over time I was missing a few things—real autonomy and accountability. I wanted to help build something from the ground up and to be responsible for delivering exceptional and sustainable results. I got my chance by joining Tessian. In just three months, I have learned so much, acquired more responsibility than I could imagine and, most importantly, I've started to assemble an extraordinary team of brilliant people from different disciplines, each of whom challenges me and makes me better at my job.
Our goals for 2019 are bold and courageous. To achieve them, we are looking for key talent to round out our capabilities.
Check out the open roles at tessian.com/careers. In the meantime, meet our Marcomms team and hear what they think of Tessian—
"As a creative graduate having worked for independent studios and within in-house teams, building a design career at Tessian has been decidedly different. Cybersecurity companies face an uphill struggle when constructing the visual narratives that power their brands—the sector is filled with overly complex explanations of technology and iconographic cliché; the shield, the padlock, the lightning strike. Design at Tessian is instead always evolving and growing, and allows you to work in all areas of the company, integrating with sales to produce pitch decks, or with client development to produce workflow diagrams, or with operations and recruitment for branded collateral and event organization."
- Leon Brown, Designer
"I joined Tessian in September 2017 as the first marketer, and it's been astonishing to see how the team has grown. When I joined it was crucial to quickly kick-start new marketing channels, and show in a very quick way the positive impact marketing has on the company and how it aligns to business goals. Then it was about building a marketing function and processes which could scale.
We now focus on hiring specialists and ensuring everyone in the team is aware of the direction they are moving in and how they can get to their desired destination. I truly believe you need to hire people smarter than you and get out of the way - it's important to allow people to be effective and perform to achieve the best results.
I thoroughly enjoy working at Tessian. Marketing has always been a passion of mine, but marketing for- and at- Tessian is a whole other feeling. It's a joy to work with such clever and driven individuals to really understand how, as a team, we can optimise our key marketing activities to the point where we can make accurate predictions on how many leads, MQLs or even revenue each channel can generate. There are some unique challenges working in a startup, but they're also some of the biggest selling points; there may not always be a set process or structure for things, but for the right hire it can be invigorating to set up the infrastructure for the marketing team. It's something you will keep optimising; nothing is ever stagnant. Everything is possible, which can sound terrifying, but it's one of the most exciting things about working at Tessian. We never say something can't be done, but rather always work together to figure it out. We learn from every failure as much as we do success."
- Chandni Trehan, Marketing Manager
"Joining Tessian has made moving from Los Angeles to London more than worth it. (Even in winter.) During the universally stressful college senior job search, my motto was high growth and high impact. After graduating from UCLA, I joined Tessian as the second full-time hire on the marketing team.
In under six months, I've been given the chance to forge my own path: come up with an idea, organize the plan of action and execute. I own the space in which I operate, while working closely and cross-functionally with every team in the office, which offers both breadth and depth, as I continue to learn and grow alongside some of the sharpest, savviest people I've ever known.
What's it like being at Tessian, in one word? Meaningful. Every day, we walk into work with the knowledge that what we do matters. And that's as hard to find as it is fulfilling. While rapid growth can sometimes translate to high pressure, I'm constantly grateful to be here alongside the inspirational people that I look up to in every way on our journey to make a difference."
- Bianca Butler, Marketing Associate
"With nearly 4 years in brand strategy, I've been fortunate enough to work on brand building challenges in luxury retail, FMCG and, more recently, consumer technology. Working across categories has given me a varied and colourful marketing perspective, but I was looking for a role that would take me to the front line of marketing, a position where I could have a daily impact and to be in a team where we feel ownership over the brand we build. Tessian has been exactly that. The work is dynamic, immediate and tangible and gives instant results. Tessian manages to gather incredible minds from an endless range of interesting backgrounds. It's a pleasure to work in such an energetic environment, and the excitement and dedication is infectious."
- Karina Ferdi, Marketing Executive
"Before joining Tessian I helped run CyLon, a cybersecurity startup accelerator in which Tessian participated. I worked with the then-5-person team for a year and a half. After I saw the team leave the office one day to play rounders after work, I knew I wanted to join the team. As reductive as that may seem, it represented a culture where everyone was not just part of a company, but also a friendship group. I finally joined in December 2017, as the company's first designer. What I instantly saw was where there could have been an informal division between the commercial and technology, there was respect. Everyone buys into the same vision and believes we are building something game-changing. Over the last year, my design journey has been incredibly diverse. I've been part of the company rebranding, have created exhibition stands and even outfitting our 11,000 sq ft office."
- Shane Wickramasuriya, Design and Brand Lead