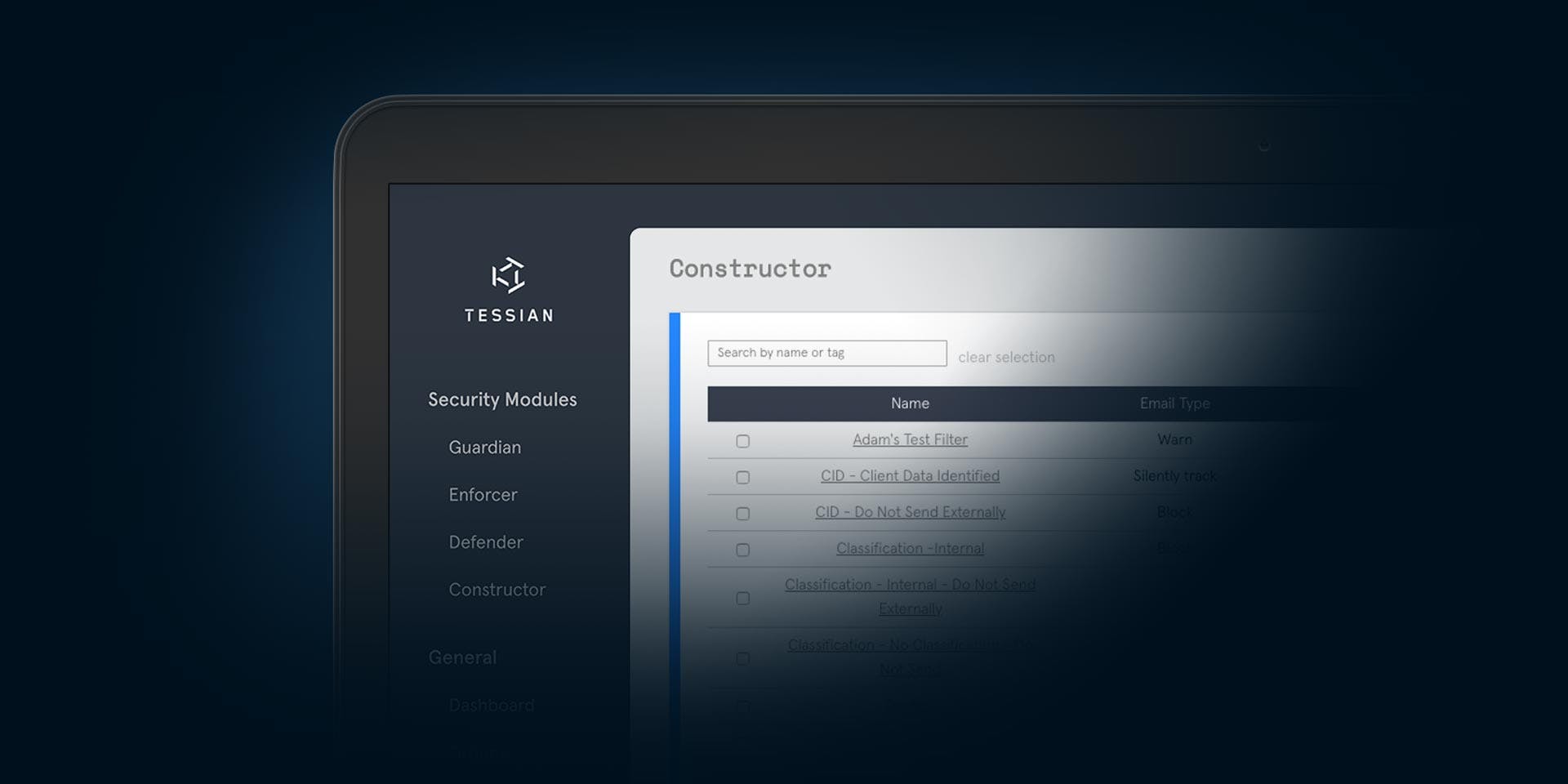 Design and deploy custom email filters to ensure that email usage remains compliant and secure.
How Tessian Constructor Works
Constructor allows enterprises to design customized email filters to secure people sending emails and ensure email usage remains compliant. Filters can be created to prevent email communications across ethical walls, monitor abusive language, prevent attachments with social security numbers leaving an organisation and much more.
Why world-leading enterprises invest in Constructor
Bespoke controls for user groups
Constructor allows administrators to build and deploy different filters to different people or teams within the organization. Constructor's flexibility helps enterprises respond in an agile way to changing security priorities.
Intelligent policy-building
Constructor's use of stateful machine learning helps Tessian understand which emails to non-business accounts are safe and which require action to be taken.
Administrators can interrogate full audit logs of activity flagged by Constructor. Customers can access insights on Tessian's intuitive dashboard, which gives admins detailed insights into past and present email security threats in real time.
Integration and deployment can be completed in minutes, without the need for any pre-labelled training data or configuration. Constructor is able to actively prevent data breaches 24 hours after installation.
Organizations minimize the costs of regulatory sanctions, financial penalties and reputational damage by eliminating the threat of email non-compliance.
Administrators can choose which threats trigger different kinds of notification for employees. Tessian clearly explains the reasons behind the alert to employees, increasing awareness and educating the workforce without impeding regular workflows.
Constructor secures all enterprise email environments
Desktop
Direct Outlook add-in
Mobile
Gateway deployment