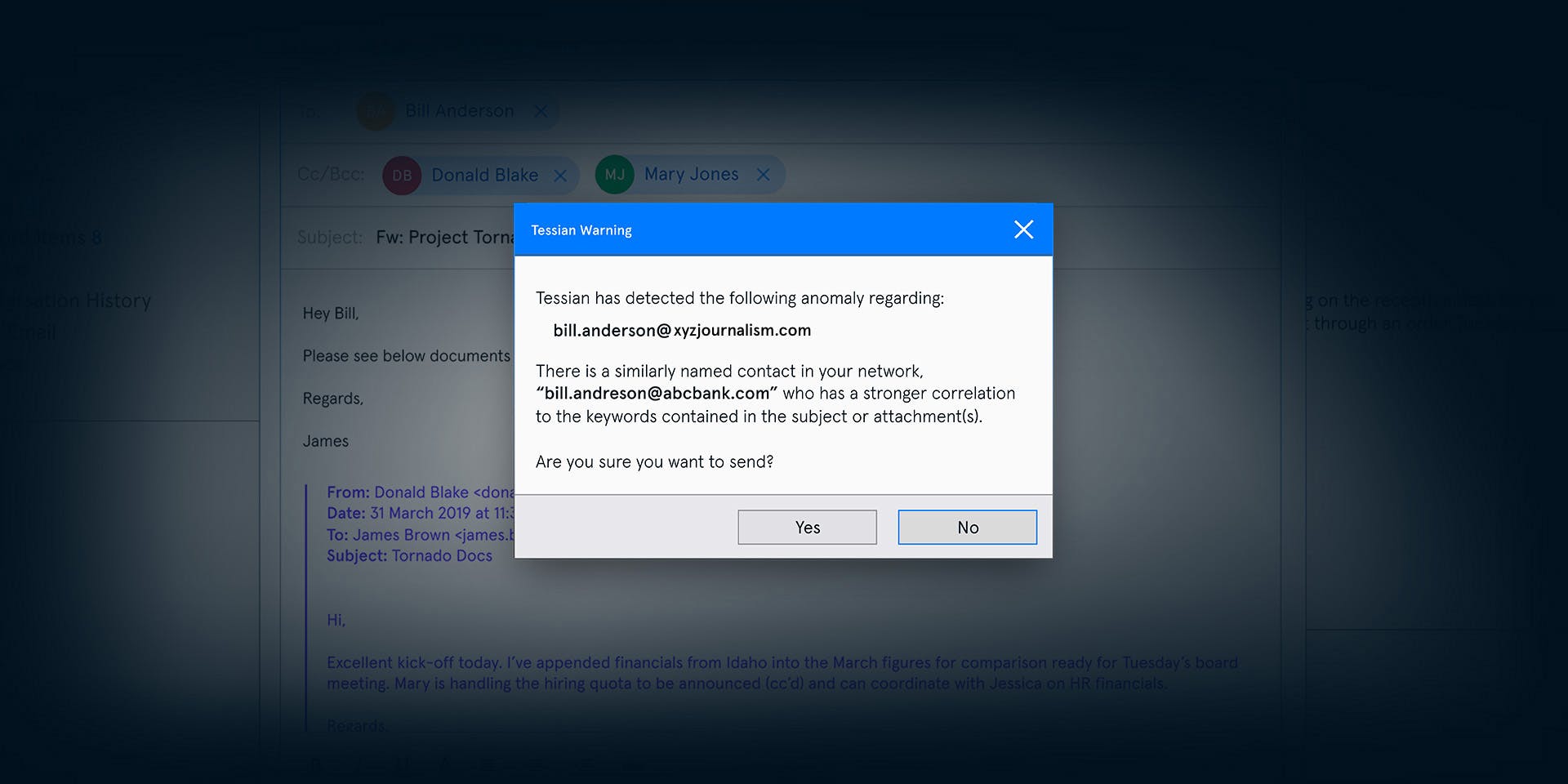 Prevent accidental data loss caused by misdirected emails.
How Tessian Guardian works
Guardian's stateful machine learning retroactively analyzes historical enterprise email data in order to understand the difference between safe and unsafe emails being sent. By analyzing myriad data points within email headers, body text and attachment data, Guardian can detect and prevent threats in real time with minimal disruption to employees or administrators.
Why world-leading enterprises invest in Guardian
Organizations minimize the costs of regulatory sanctions, financial penalties and reputational damage by eliminating the threat of accidental data loss over email.
Because Tessian's machine learning evolves and refines over time, system administrators don't need to invest time configuring and reconfiguring complex lists of simplistic rules and managing reams of training data.
Administrators can interrogate full audit logs of activity flagged by Guardian. Customers can access insights on Tessian's intuitive dashboard, which gives admins detailed insights into past and present email security threats in real time.
Integration and deployment can be completed in minutes, without the need for any pre-labelled training data or configuration. Guardian is able to actively prevent data breaches 24 hours after installation.
With Guardian, employees know which emails are genuine and which are dangerous. Organizations benefit from more confidence and trust, without needing to invest in costly legacy technologies or distracting training workshops.
Intelligent notifications
Threats trigger real-time warning notifications within the email client. Tessian explains the reasons behind the alert to the employee in the moment, increasing awareness and educating the workforce without impeding regular workflows.
Guardian secures all enterprise email environments
Desktop
Direct Outlook add-in
Mobile
Gateway deployment